Over the past few weeks, we've quietly added a few new features to PhotoCentral:
First, we've added album sorting in Gallery.  You can sort by Name, Creation Date, or Expiration Date.  The setting is stored in your account, so the setting sticks from session to session and device to device.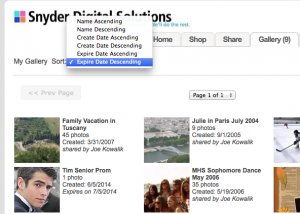 Second, we added a new Grid display feature for albums.  Just click on "Grid" on your album page to see photos in a Grid format (click "Slider" to see photos in the original gallery slider format).  You can drag and drop sort your album from the grid.  And double-click on a photo to navigate directly to the photo in Slider view.  This setting is also stored in your account settings.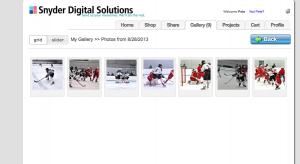 Next, we added more descriptive text on the Select Source page to indicate what project you are currently working on. This also will make it easier to give out product specific ordering links that make some sense. For example, this link: http://sandbox.photogize.com/bponet/selectsource.aspx?wkf=canvas&cat=1470 brings you to a Source Select page that tells you that you are selecting photos for our new 16x20x1.5 Canvas Wrap product.
To create your own links, navigate to the Shop page in PhotoCentral.  Click on a Product Group.  Then RIGHT click on any product and select "copy link" or "copy shortcut".  A fully qualified, direct link to creating that product will now be stored in your clipboard.  You can paste the link in an email, or attach it to a button on a website.