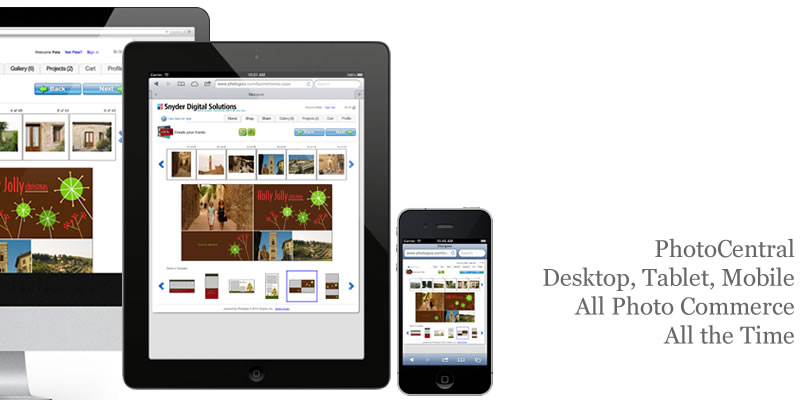 Photogize PhotoCentral
PhotoCentral is our new Touch Friendly online service from Photogize that lets your customers View, Edit, Share, Print and Archive their digital photos.
PhotoCentral is NOT AN APP. It's a touch-friendly, mobile-savvy website. You don't need to download or install anything.
PhotoCentral features a tabbed interface that simplifies consumer navigation and online ordering. The main landing page features a rotating set of consumer marketing messages.
Desktop, Tablet, and Mobile ready
The look, the feel, and the fun of PhotoCentral are identical on any browser and any platform from an iMac PC to a Fire Tablet to an iPhone.
CloudCover compatible
PhotoCentral will let consumers order from a limitless catalog of CloudCover powered content. Create personalized books, calendars, folded cards, posters, and more.
And Photogize Lab will fulfill all these products directly to any minilab, printer, or PDF-compatible downstream workflow.
Better Photo Printing
PhotoCentral features a WYSIWYG photo cropping tool that's part of the Print Order page. Your customers can now crop their photos, in the aspect ratio of the print size they just ordered, without leaving the Print Order page.

Socially Aware
You can share any PhotoCentral album to a family member or friend using email. Or post links to the album on Facebook, Twitter, or dozens of other social sites. All with just a few mouse clicks.
Completely Customizable
The products, prices, business rules, and branding that you define in Photogize Lab are used by Photogize WebServices to dynamically create a customized PhotoCentral. Photogize Lab gives you the link to your web site. All you need to do is put a button on your site which, when clicked, sends your customers to your PhotoCentral. And our RetailerCentral web application gives you more control than ever over your web presence.